Jenn Richardson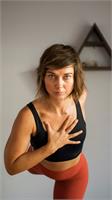 Jenn has been a yoga teacher in the San Diego area for over a decade. She has obtained her 500-hour certification with renowned teacher and author, Rolf Gates. Expect to find her guiding students to look within, listen deeply and to be aware of their own unique anatomy. Jenn believes in creating and holding a loving space for each person, speaking words that are high in vibration and facilitating an experience that allows people to feel empowered, inspired, and safe. Jenn has lead and co-lead Yoga Alliance approved Teacher Training's, retreats in and out of the country and studied body and energy work. She has worked with student athletes for many seasons at, the University of San Diego guiding sport specific yoga, breathing and meditation. Jenn also volunteers with San Diego Sharp Hospice in support of the dying process as a dignified and spiritual experience. She looks forward to continuing to learn, study and grow within the community that has supported her and holds the intention that she, through yoga, is a source of support and empowerment too.
Jenn Richardson instructs the following:
This class includes a sequence of postures arranged to systematically create heat and stoke the energetic fires of the body. Advanced postures will be introduced as options to go deeper, and students may learn step-by-step how incorporate binds, arm balances and inversions in their practice. This is a breath based practice that is fun and is designed to build strength and flexibility, learn physical postures, yoga philosophy, and create a sense of calm and balance in the mind, body, and spirit.