Matt Wood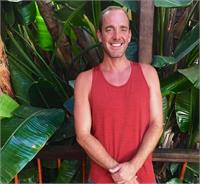 Matt found yoga in 2012 by walking into a Baron Baptiste affiliated power yoga studio in Baltimore, MD. He has not stopped practicing and studying since. After 2 years of practicing and exploring a vast array of styles including Baptiste Power Yoga, Jivamukti, Yin, Ashtanga, Anusara, Iyengar, and Vinyasa yoga, he completed his 200 hour YTT with Amanda McCarroll and Carolina Vivas at Buddhi Yoga in La Jolla, CA.
Matt's classes are dynamic and fun with emphasis on the importance of principles of alignment and a deep inner connection through the power of breath. Suitable for students of all levels and especially those with a desire to refine their practice.
Matt Wood instructs the following:
This class includes a sequence of postures arranged to systematically create heat and stoke the energetic fires of the body. Advanced postures will be introduced as options to go deeper, and students may learn step-by-step how incorporate binds, arm balances and inversions in their practice. Recommended for all types of yogis that want a dynamic practice. This a breath based practice that is fun and flowing, designed to build strength and flexibility, learn physical postures, yoga philosophy, and create a sense of calm and balance in the mind, body, and spirit.




Yin yoga promotes stillness in the body and mind. While most forms of yoga focus on the muscles, yin yoga is meant for the joints, the connective tissue called facia, and has many benefits for the body. It is a great compliment to more rigorous forms of exercise as it opens the body and stimulates our connective tissue.
Yin class is composed of all seated or reclined poses that are held anywhere from 2-7 minutes each. While in each pose Reiki, energy healing, will be administered. Reiki is a Japanese technique where the hands are placed on or over the body moving life force energy to assist stress reduction, relaxation, healing, and happiness.