Lauren Ursch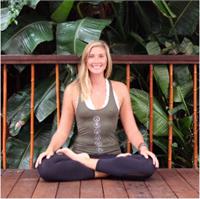 Lauren relocated to San Diego from Boston, MA after falling in love with the Pacific Ocean, the vibrant yoga community and active-healthy lifestyle that San Diego has to offer. Lauren began practicing yoga in 2009 and was initially drawn to the physical aspects of the practice. After graduating from Northeastern University, Lauren began working in Boston, in the mental health field as a Recreational Therapist. As such, Lauren found herself turning to yoga for the psychological and spiritual benefits as a form of self-care. Consequently, she discovered the naturally therapeutic effects of yoga and meditation and came to realize she couldn't live without yoga and all the joy it brings to her life.
Lauren followed her heart to Bali, Indonesia where she completed her RYT-200 Ashtanga Vinyasa yoga teacher training in 2015.
Lauren has her Masters of Science Degree in Counseling Psychology and B.F.A. in Creative Arts Therapy. Lauren is passionate about the healing arts, holistic health and the mind-body connection. She always seeks to integrate her mental health training into her yoga classes by emphasizing the therapeutic benefits of asanas and breath work. Lauren is devoted to helping others on a positive path to optimal wellness and harmony in all aspects of life.
Lauren Ursch instructs the following:
This class will be accompanied by a live musician!

Yin yoga promotes stillness in the body and mind. While most forms of yoga focus on the muscles, yin yoga is meant for the joints, the connective tissue called facia, and has many benefits for the body. Yin class is composed of all seated or laying poses and are held anywhere from 2-7 minutes each. Yin yoga will challenge the mind to remain present while physically and mentally releasing tension. Expect to leave this class relaxed and renewed with a sense of calm energy. Great for all levels!