Courtney Preis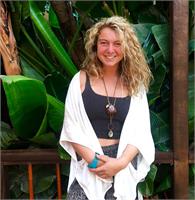 Courtney Preis is a musician, vegan cook, and RYT 200.
Courtney teaches Vinyasa, Slow Flow, and Restorative styles. In her classes you'll feel uplifted by her positive energy and loving nature, and your body will feel open and strong. Don't be surprised if this talented Yogi takes out a guitar to serenade her students!
Courtney Preis instructs the following:
This is a restorative class using props and bolsters to allow deep relaxation in each pose accompanied by live music! Each pose is held for about 5 to 7 minutes each while being guided through a mediation. This class allows you to let go, relax, and unwind restoring and refreshing the body and mind. Great for all levels!




Beginner friendly, all are welcome! This class introduces the fundamentals of yoga with an intelligently designed sequence of poses that are accessible to new students and allows the more experienced practitioner a chance to explore and master the intricacies of each posture. Students of this class will enjoy a well rounded yoga experience without the demand of a fast moving sequence and create a foundation upon which to build their practice.