Jeny Dawson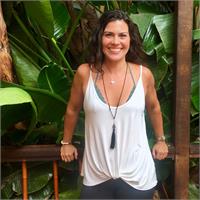 Jeny Dawson is a RYT® 200 with additional training in yoga for children of diverse abilities, and an Integrative Nutritional Health Counselor. She draws from a vast array of educational modalities and life experiences to help others heal and transform their lives. She started her yoga practice in 2002 and studied the science of Hatha Yoga in Bali, Indonesia as a dedicated student. Through her studies she has learned strategies to support adults and children with self-regulation, body awareness, social skills, language and communication, identification and expression of difficult emotions, fine & gross motor skills, imitation skills, reducing anxiety, breathing exercises, mindfulness, and healthy eating habits. Jeny's sincerity to her practice and teaching, both contemporary and traditional, creates a supportive, intelligent and educational environment for students of all ages. As a Holistic Health Counselor, she helps individuals and families achieve balance in all aspects of their life, including but not limited to, a balanced and nutritious diet, physical activity, relationships, career or school, and spirituality. She is passionate about health, wellness, and yoga and aims to raise awareness and be of service in the community.
Jeny Dawson instructs the following:
This unique class combines the vibrational healing properties of such instruments as crystal singing bowls, gongs, and tuning forks with the slow and meditative yin yoga practice.

Why combine the two?

As yin yoga moves deep into the connective tissue, the vibrational instruments aid in the opening of the body and releasing energetic blockages that we often store deep within.




Yin yoga promotes stillness in the body and mind. While most forms of yoga focus on the muscles, yin yoga is meant for the joints, the connective tissue called facia, and has many benefits for the body. It is a great compliment to more rigorous forms of exercise as it opens the body and stimulates our connective tissue.
Yin class is composed of all seated or reclined poses that are held anywhere from 2-7 minutes each. While in each pose Reiki, energy healing, will be administered. Reiki is a Japanese technique where the hands are placed on or over the body moving life force energy to assist stress reduction, relaxation, healing, and happiness.