Jeny Dawson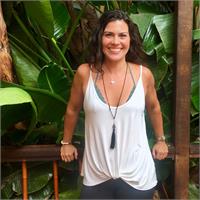 Jeny is the Founder of Zen Soul Balance in La Jolla, California. Her heart for ZSB is to inspire others to live healthy lives by encouraging them to reach beyond nutrition and exercise, and to consider the whole person – a lifestyle that acknowledges and embraces the unity of body, mind and spirit as the catalyst for optimal health and wellness. She has practiced yoga since 2002 and studied the science of Hatha Yoga in Bali, Indonesia as a dedicated student. She has a certification in yoga for children of diverse abilities, is an Integrative Nutritional Health Counselor and draws from a vast array of educational modalities and life experiences to help others heal and transform their lives. She leads weekly yoga, sound therapy, mindfulness/meditation, and nutrition classes around San Diego. She also works closely with healthcare providers to offer wellness programming for patients struggling with long term illnesses such as cancer and multiple sclerosis. Jeny is on the board of directors for the Sean O'Shea Foundation and volunteers monthly with other non-profit organizations. She is passionate about health, wellness, and yoga and aims to raise awareness and be of service in the community.
Jeny Dawson instructs the following:
Yin yoga promotes stillness in the body and mind. While most forms of yoga focus on the muscles, yin yoga is meant for the joints, the connective tissue called facia, and has many benefits for the body. It is a great compliment to more rigorous forms of exercise as it opens the body and stimulates our connective tissue.

Yin class is composed of all seated or reclined poses that are held anywhere from 2-7 minutes each. Yin yoga will challenge the mind to remain present while physically and mentally releasing tension. Expect to leave this class relaxed and renewed with a sense of calm energy.