Kristi MaDan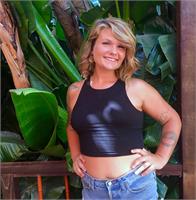 Kristi MaDan was originally drawn to yoga for the physical asana -- then she started to realize the power held within the more subtle aspects of the practice. Feeling called to dedicate herself further, she completed an intensive 200-hour teacher training right here at Riffs Studios. Inspired by both the mystical and tangible world around her, Kristi brings her connection to nature into her teaching style. She guides classes slowly and intentionally in order to experience each movement to its fullest potential. Kristi also incorporates other holistic healing modalities into her classes, such as pranayama and meditation. Her goal is to leave students feeling connected, empowered, and fully immersed in the present moment.
Kristi MaDan instructs the following:
Beginner friendly, all are welcome! This class introduces the fundamentals of yoga with an intelligently designed sequence of poses that are accessible to new students and allows the more experienced practitioner a chance to explore and master the intricacies of each posture. Students of this class will enjoy a well rounded yoga experience without the demand of a fast moving sequence and create a foundation upon which to build their practice.




This is a restorative class using props and bolsters to allow deep relaxation in each pose. Restorative poses may include forward folds, gentle twists, and gentle back bends. Each pose is held for about 5 to 7 minutes each leading students to a recuperative experience through passive stretching. This class allows you to let go, relax, and unwind restoring and refreshing the body and mind. Great for all levels!




This class includes a sequence of postures arranged to systematically create heat and stoke the energetic fires of the body. Advanced postures will be introduced as options to go deeper, and students may learn step-by-step how incorporate binds, arm balances and inversions in their practice. This is a breath based practice that is fun and is designed to build strength and flexibility, learn physical postures, yoga philosophy, and create a sense of calm and balance in the mind, body, and spirit.