Rachel Lubich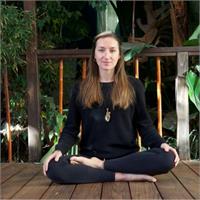 Rachel is a lifelong student committed to the study and sharing of yoga. With over 4,500 hours of teaching experience spanning more than 8 years across multiple cities within the United States and abroad, she has been able to absorb the many teachings of various communities.
Although a vinyasa teacher by training, she does not confine herself to one style or definition of teaching. Rather, she draws upon her life's experiences, both on and off the mat, to help students discover their own definition of Yoga. Her vinyasa classes are inspired by her personal practice, one consisting of intelligently sequenced, creative movement and the process of patiently listening to her own body. Whether she is teaching a restorative or vinyasa class, students can expect to find their focus, explore their strengths and weaknesses, laugh and feel well balanced.
Rachel Lubich instructs the following:
This class includes a sequence of postures arranged to systematically create heat and stoke the energetic fires of the body. Advanced postures will be introduced as options to go deeper, and students may learn step-by-step how incorporate binds, arm balances and inversions in their practice. This is a breath based practice that is fun and is designed to build strength and flexibility, learn physical postures, yoga philosophy, and create a sense of calm and balance in the mind, body, and spirit.