Marie Barranco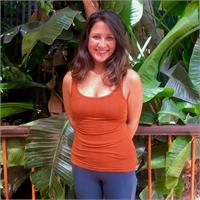 Marie is a native San Diegan whose path first converged with yoga and mindfulness meditation in 2013. The therapeutic elements of the practice radically shifted her life, inspiring her to delve deeper into the practice and eventually pursue a path in teaching. She is passionate about creating spaces for individuals to slow down and harness inherent tools like breath and conscious movement to observe and explore their physical and mental patterns. Marie defines yoga simply as intimacy - intimacy with the breath, the body, the human experience - and believes this intimacy enables us to lead more mindful, inspired and connected lives.
Marie teaches slow-paced classes with the intention of creating a safe space for students to explore their physical, mental and breath landscapes. Expect a deep emphasis on breath and alignment-based principles with time for meditation and dialogue in her classes. Marie completed her 200 hour certification at Riffs Studios in 2017 and has since pursued training in Buddhist psychology and meditation practices, breath work, yin yoga, and trauma-informed mindfulness. She hopes students walk away from class feeling renewed and inspired to welcome the same curiosity, compassion, and consciousness found on the mat into all aspects of their lives.
Marie Barranco instructs the following:
Beginner Friendly, all are welcome. This class introduces the fundamentals of yoga with an intelligently designed sequence of poses that is accessible to new students and allows the more experienced practitioner a chance to explore and master the intricacies of each posture. Students of this class will enjoy a well rounded yoga experience without the demand of a fast moving sequence and create a foundation upon which to build their practice.




This unique class combines the vibrational healing properties of such instruments as crystal singing bowls, gongs, and tuning forks with the slow and meditative yin yoga practice.

Why combine the two?

As yin yoga moves deep into the connective tissue, the vibrational instruments aid in the opening of the body and releasing energetic blockages that we often store deep within.