Melody Le Goff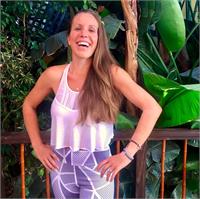 Melody Le Goff instructs the following:
Yin yoga promotes stillness in the body and mind. While most forms of yoga focus on the muscles, yin yoga is meant for the joints, the connective tissue called facia, and has many benefits for the body. It is a great compliment to more rigorous forms of exercise as it opens the body and stimulates our connective tissue.

Yin class is composed of all seated or reclined poses that are held anywhere from 2-7 minutes each. Yin yoga will challenge the mind to remain present while physically and mentally releasing tension. Expect to leave this class relaxed and renewed with a sense of calm energy.




Beginner friendly, all are welcome! This class introduces the fundamentals of yoga with an intelligently designed sequence of poses that are accessible to new students and allows the more experienced practitioner a chance to explore and master the intricacies of each posture. Students of this class will enjoy a well rounded yoga experience without the demand of a fast moving sequence and create a foundation upon which to build their practice.




This unique class combines the vibrational healing properties of such instruments as crystal singing bowls, gongs, and tuning forks with the slow and meditative yin yoga practice.

Why combine the two?

As yin yoga moves deep into the connective tissue, the vibrational instruments aid in the opening of the body and releasing energetic blockages that we often store deep within.