Anna Mariscal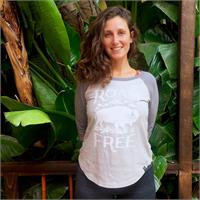 Anna's life became devoted to yoga after suffering a severe back injury in 2009. The therapeutic and anatomic centered movements of the yoga asanas not only allowed her to regain her space in her physical body pain free, the asanas offered her a greater understanding and healing of her as a whole, of her physical body in connectivity to her subtle body to her mind, and to her heart. For Anna the practice of yoga is a practice of love for life and devotion to connecting; each movement and breath an opportunity to dive into compassion and kindness not just for the immediate self, but with regards to all life.
Anna is now a 200 RYT, having completed her training through Riffs yoga teacher training. Her classes focus on developing anatomical strong foundations and proper alignment, from which students feel they can grow, play, and experiment in their individual practices as well as gain confidence in their bodies' and minds' capabilities.
Anna Mariscal is currently not instructing any classes.