Lauren Rotunno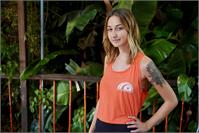 Hello yogis! I am Lauren Rotunno, certified 200hr yoga teacher. I began practicing yoga when I moved to San Diego from the midwest Chicago land area. Through finding my daily practice, I started linking my breath, mind, body and experiences together which formed a heightened sense of importance with love on all levels... individual self and beings surrounding it. My yoga teaching has enabled me to discover my passion for bringing the traditions of yoga to my classes while also bringing awareness to the anatomy. I am here to help guide students, to look within, listen deeply and discover awareness. Cultivating a community free from judgement!
Lauren Rotunno instructs the following:
Beginner friendly, all are welcome! This class introduces the fundamentals of yoga with an intelligently designed sequence of poses that are accessible to new students and allows the more experienced practitioner a chance to explore and master the intricacies of each posture. Students of this class will enjoy a well rounded yoga experience without the demand of a fast moving sequence and create a foundation upon which to build their practice.




This unique class combines the vibrational healing properties of such instruments as crystal singing bowls, gongs, and tuning forks with the slow and meditative yin yoga practice.

Why combine the two?

As yin yoga moves deep into the connective tissue, the vibrational instruments aid in the opening of the body and releasing energetic blockages that we often store deep within.