Robin Christ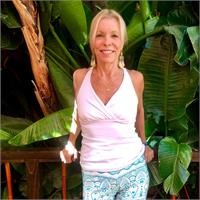 Robin Christ
Robin (MataJi) has been a dedicated practitioner of the meditational Science of the Soul, Surat Shabd Yoga, for over 40 years. In 2008 she was drawn to a hatha yoga practice and discovered Anusara Yoga®, beginning her passionate and devoted study of Anusara's methodology and acquiring a deep understanding of its exquisite Universal Principles of Alignment along with its rich and deeply spiritual Tantric tradition. She received 'Anusara Inspired Teacher' status in 2011 and became a fully 'Certified Anusara Teacher' with the Anusara School of Hatha Yoga in 2014 (Yoga Alliance E-RYT 500® / YACEP®), a 'Subject Matter Specialist' (SMS) for the school in Philosophy in 2017 and a 'Certified Advanced Teacher Trainer' (CATT) in 2018. She joyously shares the boundless gifts she has received from her years of practice and study in her teaching and enthusiastically brings to her classes an innate love of movement, grace and beauty that coincides with her unwavering devotion to the Divine Light within and all around us.
Robin teaches Anusara Yoga® on Tuesdays and Thursdays at 3:30
Robin Christ instructs the following:
Anusara®: Yoga of the Heart


Anusara Yoga is a hatha yoga based system that weaves together body and spirit by encouraging conscious alignment with the current of Divine Energy that flows through us all … and by the joyful and artful expression that naturally arises when we tap into that flow. Each class is built around a heart opening, spirit-infused, uplifting theme and focuses on detailed alignment along with gracefully flowing transitions, meditation and kirtan (chanting meditation practice). Come celebrate the beauty and magnificence of your True Self, the Spirit within you and all around, as we move and breathe together as One!