By Steve Hart
When I was 24 I had this crazy idea to move out to California and open up a guitar shop. I had very little idea about what I was getting myself into, but it felt really exciting so I looked into it. I looked up retail space available between LA and San Diego based on the parameters I needed and found close to 30 listings, but the one that sat at the top really stuck out to me. I got those butterflies in my stomach, I thought it was perfect. It was in La Jolla and had a cool shape to the building and backyard area that I thought could be useful. I showed this building to my dad and his response was "great, but do your research." So I did, and I found 15 different locations that I wanted to look at when I came for my visit.
I reached out to a friend of mine that I knew was going to school in San Diego and asked if I could crash on her couch while I looked at places for the business. She said yes, and it turns out that her roommate was a commercial real estate agent that would love to take me around to see the different locations. What a coincidence! So I hopped on a plane and landed in San Diego. While sitting in the airport I had this thought. A close friend of mine, and a neighbor from childhood, went to school in San Diego. Though I hadn't seen her in years, perhaps she was still living out here. So I sent her a message and it turns out that she did live here and wanted to meet me for coffee in the neighborhood where she lived at this great little place called Bird Rock Coffee Roasters. Before I even went to the house I was staying, I rented a car and went to meet my friend for coffee.
As I approached the coffee shop, I drove through a roundabout only to notice the very first building I was looking at for my business, the one that gave me butterflies! It was only a block away from from the coffee shop and I had no idea. So I went on to meet my friend for coffee, and happened to meet the owner who turned out to be an avid guitar player and loved my idea of bringing a guitar shop to bird rock. What a coincidence! I told my friend why I was in San Diego and about this first building that I saw, so of course we walked up the street and looked through the windows and over the fence into the back yard. Everything about it felt exciting.
I went on to look at all the other locations, more to please my dad then anything, because I felt the first one was the right one. My only concern was price, it was a more expensive than I was planning to pay and that made me second guess my decision. My ego was scared that if I went for it, I would fail and lose everything.
So I went back home to Utah with a big decision to make. Was I going to risk all that I owned on this crazy business idea? It was eating me up inside. Most people were telling me not to do it, that it was too risky, too much money, and would never work.
Coincidentally, right as I got home I got an email from the real estate broker saying that the price on my top choice building had just been reduced drastically. I sat there stunned, the excitement was overwhelming. Everything was flowing and that part of me that said "you don't know what you're doing, you're too young to do this, you're going to fail" was holding on by a thread until I finally took a deep breath and let go.
Notice two things about this story- the excitement and the coincidences, though I no longer believe in coincidences, so from here on out I'll refer to them as synchronicities. I was faced with a huge life changing decision, one that I could have easily turned away from and followed the safer path of getting a job with some company and hope to work my way up the ranks. As I went through the steps, I simply followed my excitement. Whatever excited me most, was the path I followed, and I knew it was the right path because there were constant synchronicities, signs along the way telling me to keep going. It happened over and over again, to the point where I would have been asking myself "what if" for the rest of my life. And this was only the beginning!
This same process continued from the day I signed the lease through the day I sit here writing this piece. I followed my excitement, and watched the synchronicities unfold before me. It was what helped me turn what started out to be a guitar shop into a center for music and yoga education and experience, and presented to me the world of sound healing. I can't wait to see the continuing evolution as time goes on, and I can trust that it will evolve as it should as long as I continue to follow my excitement, which is simply a sign from my highest self telling me the answers to my questions.
Let me first tell you that I am not unique, or special, or different than anyone else in any way. I only listened to what my body was telling me, and accepted the signs I received as confirmation I was moving in the right direction. Everyone has access to this, yet many become crippled by indecisiveness. Should I quit my job? Should I ask her out? Where should I live? There is a never ending stream of questions that sometimes can be so overwhelming that we don't do anything at all. We sit in a job we don't like, we stay single, we don't move into the new place, all because we can't figure out exactly what is the right decision to make.
Why do we do this to ourselves?
The first issue is fear. By not making any decision we are not making the wrong decision, so we feel safe. It is a lot easier on the ego if we stay in a job we hate instead of creating a new business that might fail. It feels better to be single then to ask out that person only to be rejected because we think we aren't worthy of someone like that. The ego loves to be safe and stagnant, any risk or change is a threat. We subconsciously protect our ego by not allowing ourselves to know what we want to do. Which dismiss the excitement as a pipe dream that is unrealistic and will never work, so we stay stagnant, stay small.
The second issue is the willingness to receive. Life is a flow, and how we ride it nothing more than a choice we make each day. So often we try to hold onto things that feel safe and familiar, but if we go with the flow of the universe it will lead us in the right direction and give us the answers to our questions. Many people write off these answers as random coincidences, but I prefer the term synchronicities and to trust wholeheartedly in them.
I highly recommend a some sort meditation practice for those in need of an answer. By calming the incessant chatter in our head we can hear the quiet message in our heart. This process is aided via the vibrations of various sound healing instruments like the gong and crystal bowls. My experience in hosting these sessions has been incredible, as numerous clients have approached me with revelations they have received during the session. It's been a true testament to the power of these sessions, as well as the presence of the hidden intuition that we all have inside of us, but so often ignore.
For any of those interested in booking a session, please email me at steve@riffsstudios.com and I would love to work with you. Please share my blog with anyone you think this might help to find some clarity in their lives, and be sure to follow my at @onehartyoga to stay up to date with events, insights, and opportunities.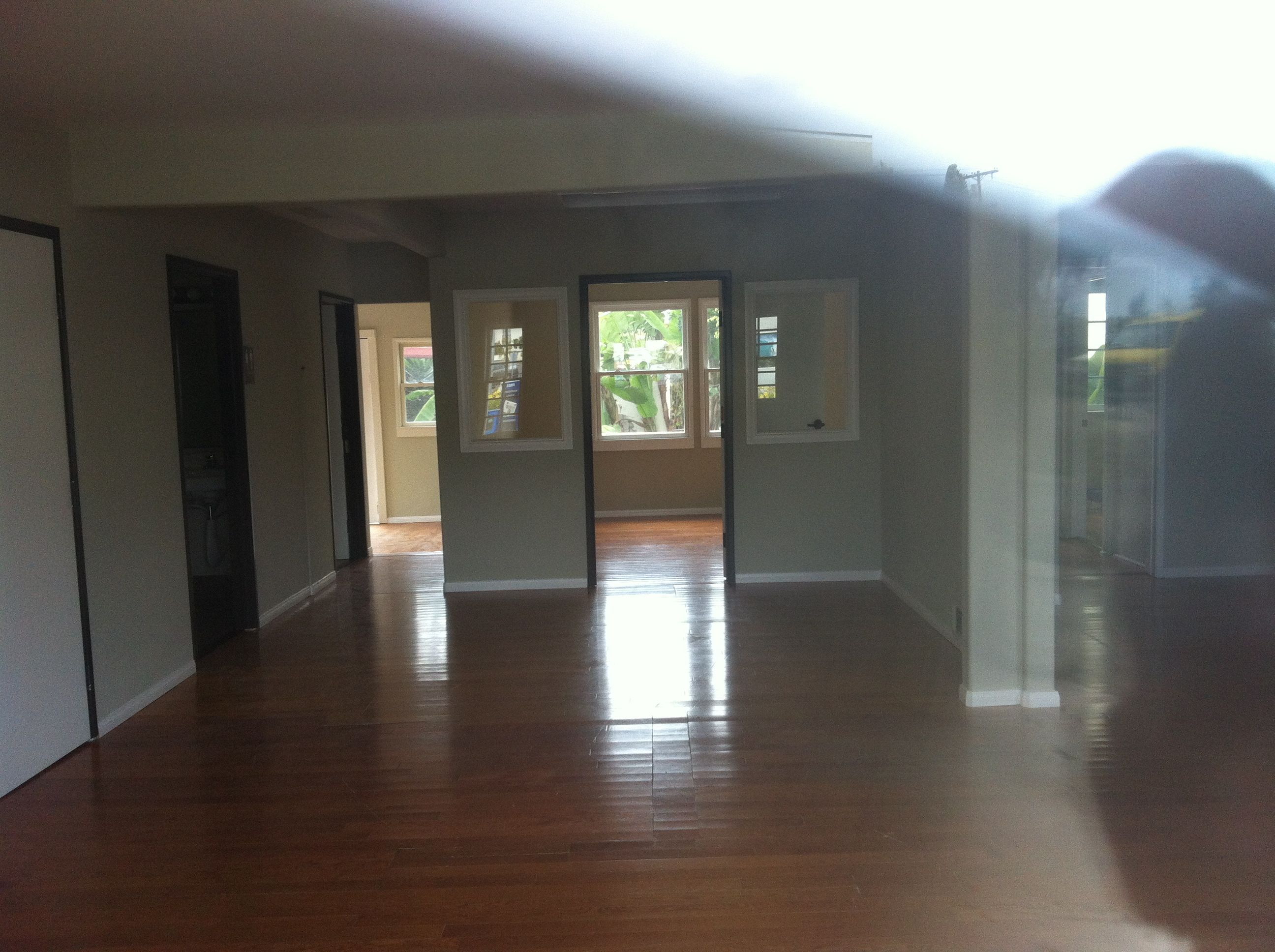 My first look inside the front window at Riffs, April 2012.