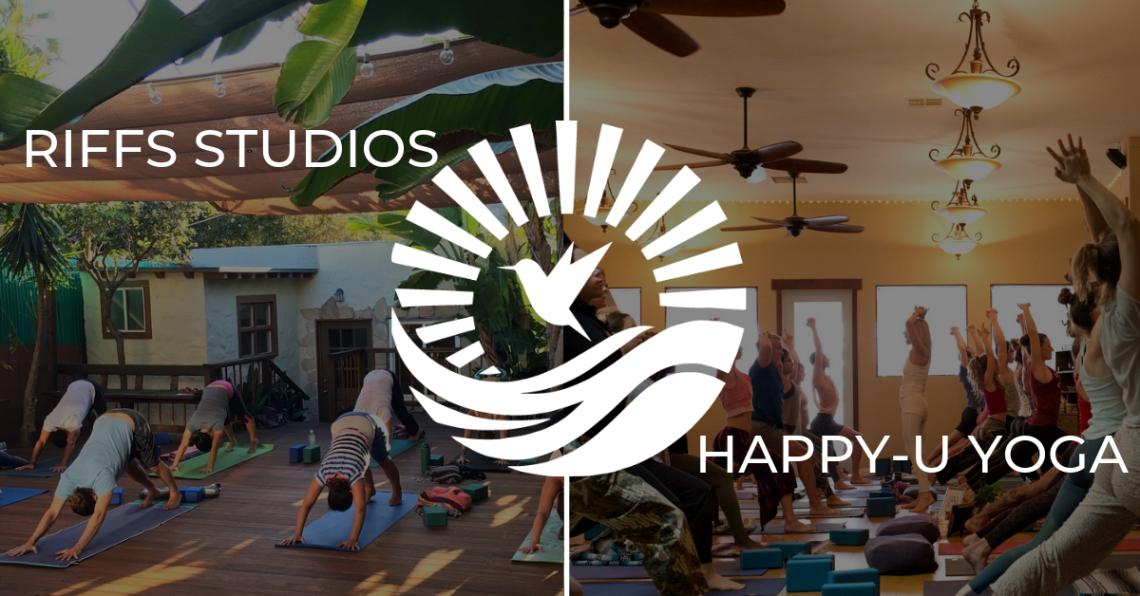 Riffs has acquired Happy-U Yoga and is now offering all students equal access to both studios!

Yoga is for everyone. No matter the age, gender, or experience, we have a wide range of classes to help new students learn the ropes and advanced practitioners deepen their practice. Here is some information about the class types to help you get started in finding the best class for you! They are listed from least to most challenging-


Restorative Yoga: (Beginner Friendly) Similar to Yin, restorative is a passive practice with gentle stretching purposed to open up the body and allow for self-healing. The use of essential oils is incorporated into the practice to add an extra healing component. Expect to leave fully relaxed, open, and smelling great.
Yin Yoga: (Beginner Friendly) A passive practice, this class is accessible to all. Yin yoga is focused on the joints and connective tissue in the body, and is a great way to work out old injuries, lubricate the joints, and explore deep flexibility. This class also has a meditative component, as each pose is held for several minutes it is the perfect way to relax and release from the everyday stresses of life.
Gentle Hatha: (Beginner Friendly) This class introduces the fundamentals of yoga with an intelligently designed sequence of poses that is accessible to new students and allows the more experienced practitioner a chance to explore and master the intricacies of each posture. Students of this class will enjoy a well rounded yoga experience without the demand of a fast moving sequence and create a foundation upon which to build their practice. This class will be nice and easy, sure to bring you into a state of peace.
Slow Flow: (Beginner Friendly, some experience is beneficial) This is an all levels class designed for a range of students to further deepen their practice. This class will move slowly, but may incorporate breath-to-movement flowing sequences and/or a challenging peak pose. An introduction to intermediate or advanced poses may be incorporated into the sequence, but will be offered with modifications for less experienced students and options for more experienced students to go deeper.
Vinyasa: (Beginner Friendly, Some yoga experience is helpful). This is an intermediate level class designed to challenge students to find more depth in their practice. This class will move at a faster pace, often incorporating vinyasa flow, with the focus on preparing the mind and body for a peak pose. It may incorporate more difficult poses such as arm balances, inversions, and binds. Although challenging, this class is accessible to all students with some yoga experience.
Anusara®: Yoga of the Heart: (Beginner Friendly, Some yoga experience is helpful) Anusara Yoga is a hatha yoga based system that weaves together body and spirit by encouraging conscious alignment with the current of Divine Energy that flows through us all … and by the joyful and artful expression that naturally arises when we tap into that flow. Each class is built around a heart opening, spirit-infused, uplifting theme and focuses on detailed alignment along with gracefully flowing transitions, meditation and kirtan (chanting meditation practice). Come celebrate the beauty and magnificence of your True Self, the Spirit within you and all around, as we move and breathe together as One!
Bheemashakti: (All Levels) Bheemashakti Yoga consists of physical exercises (kriyas) combined with dynamic breathing practices (pranayama) and harmonizing meditations to prepare the student for any level of yogic practice one desires. Conditioning the body in this way accelerates the improvement of any existing asana practice. Instruction follows a rhythmic cycle to balance the energies in the body and is tailored to the individual needs of each student. Open to all levels and experience.
Kundalini: Kundalini Yoga and Meditation as taught by Yogi Bhajan is the Yoga of awareness. Stemming from the Raj or Royal Yoga tradition of India, this practice empowers, awakens and ignites a stronger sense of Self in connection to the Divine. Kundalini is an all inclusive practice, which works on the entire system; physically, mentally and spiritually. Each class will include a Kundalini Yoga kriya and meditation geared toward a specific outcome and result. Reach your full potential as a human being with this powerful, beautiful and ancient tradition.
---

Riffs Music Lesson Program

Ever wanted to learn how to play an instrument?
Riffs fun and knowledgeable music teachers will have you playing in no time!


We offer lessons for beginners to advanced for the following instruments and playing styles:
Acoustic Guitar ~ Electric Guitar ~ Flamenco Guitar ~ Ukulele ~ Voice ~ Piano ~ Bass Guitar ~ Mandolin ~ Banjo