Riffs Yoga Memberships-
Root Membership- $49/month
- 4 Classes per month, $12/Class
- One buddy pass per month
Sign Up
Heart Membership- $99/month
Most Popular!
- Unlimited Yoga, 3x/week = $8.25/class
- One buddy pass per month
Sign Up
Crown Membership- $75/month, Paid Annually
Best Value!
- 12 Buddy Passes/Year
Sign Up
Family Membership- $149/month
- Unlimited Yoga for a family up to 4
- One buddy pass per month
Music Lessons
---
Riffs Music Memberships-
Treble Membership-
Most Popular!
- 4 Classes per month
- 50% instrument restrings
60 Min-$199/m 45 Min- $169/m 30 Min- $139/m
($49/class) ($42/class) ($34/class)
Bass Membership-
- 2 Classes per month
- 50% instrument restrings
60 Min-$105/m 45 Min- $89/m 30 Min- $75/m
($52/class) ($44/class) ($37/class)
Music Membership Terms:
-Autopay Membership
-3 Month Minimum, cancel anytime afterwards
-Classes expire in 60 days, allowing flexibility to scheduling
Contact Members@RiffsStudios.com with any questions
Yoga Package Expiration Policy
All yoga packages expire 6 months from the purchase date. Expired class can be rolled over with the purchase of a new 10-class package
Private Sound Healing
60 minute sessions



Single Session- $100
total for 1-4 People, For the 5th+ attendee there will be an additional $25 charge per person.
Purchase
4 Session Package- $360

(Save $40!)
- an extra $25 per person will be charged the 5th+ students in any given session.
Purchase
---
Upcoming Workshops, Trainings, and Events
---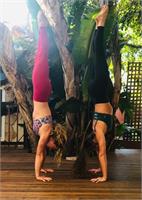 Fundamentals of Handstands

with

Courtney

Preis
Sun, Dec 16, 2018 at 12:00 pm - 2:00 pm
Whether you're a handstand master or new to all inversions, this workshop is for you! This is an ALL levels, two hour experience workshopping the master pose, handstand (Adho Mukha Vrksasana).
Courtney Preis and Mary Morrison will guide you through a short asana flow to open, warm, and prep the body. After they will introduce strengthening drills to activate the muscles essential for inverting, and offer customized hands-on feedback to improve your personal handstand practice.
Come with an open mind and heart. We're here to get stronger and more importantly have fun!
Date: December 16th, 2018
Time: 12-2pm
Cost: $35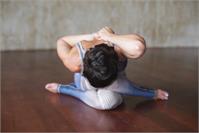 Sonic Energy: Yin Yoga, Sound Healing & Chakra Balance

with

Jeny Dawson, Mark Carter

of Zen Soul Balance
Sat, Jan 19, 2019 at 6:00 pm - 8:00 pm
Feeling stuck, unmotivated, or stressed? Maybe it's time to renew, align and balance your life. Practice the art of self-care and realign your energy centers. Known as Chakras, these centers influence everything from emotions to physical wellbeing to mental health. Yin yoga, sound healing and essential oils help to balance these centers, clear away blockages and encourage the free flow of life-force energy to bring clarity, revitalization, empathy and courage.
Join Jeny and Mark to deep-dive into your Chakras. Beginning with breath and meditation, and ending with an extended sound bath, this class moves through gentle shapes that target the seven Chakras while complemented by soothing instruments: crystal and brass singing bowls, gongs, drums, chimes and more. This blissful experience is open to everyone and will leave participants feeling rested, renewed and centered.
Date: January 19, 2019
Time: 6-8pm
Cost: $40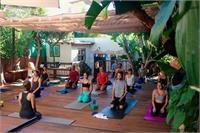 200 Hour Yoga Teacher Training

with

Karina Gerschler, Jenn Richardson

And Steve Hart
Next held on Mon, Mar 11, 2019 at 4:00 pm - 4:00 pm
This
enrollment
runs from Mon Mar 11, 2019 - Sun May 19, 2019
Dates and Times:
March 11th 2019 - May 19th, 2019
Mondays and Wednesdays 7-10pm
Saturday and Sunday 12-5pm
*We keep our groups limited in size to ensure everyone gets ample attention from the teachers. The training is expected to sell out so we recommend signing up early to ensure a place in the training*
Our 200HR training is incredibly unique, dynamic, and powerful. Featuring a well-organized, thematic schedule with senior guest teachers, students will be deeply exposed to the philosophical and physical facets of modern yoga. Students will be encouraged and supported to create their own energetically-intelligent sequences with guidance, discussion and feedback from expert teachers. Heavily steeped in alignment-based theory, students will not only gain understanding of their own anatomy but also learn the art of "reading bodies" in order to lead thoughtful and safe experiences that will have a long lasting impact on their students, friends, and family. Additional areas of focus Sanskrit, asana architecture, organic themes, meditation and chanting, the yoga sutras of Patanjali, history of modern yoga, tantra and concepts around conscious death and dying.
Who is this program for?
This program is for anyone who has stepped onto their yoga mat and felt the call to dive deeper. It's for those looking to uncover their personal philosophy and illuminate their path towards their highest selves. It is for those who are seeking spiritual depth, anatomical knowledge, creative and skillful understanding of asana. It is for those with a calling to share the yoga practice with others, whether as a professional yoga teacher or simply a guide for friends and family. It is for those looking for a community of growth and positivity, to surround themselves with those with desire to walk a higher path, and to gain a new friends that will last a lifetime.
What will you get from this training?
This course will give you the ability to teach yoga and offer the opportunity to step into yoga as a lifestyle. You will gain the experience to teach yoga to others, whether in a classroom setting or to friends and family, as well as develop a personal practice. This training offers expert guidance from highly trained and experienced teachers who have dedicated their lives to sharing the yoga practice. You will become much more familiar with your anatomy as we breakdown different aspects of the body and how they work individually as well as part of the entire system. We will also focus a great deal on how to "read bodies"- looking at modern situations/experiences and how they translate onto the mat. One of the greatest attributes to be gained from this program is public speaking skills and empowerment within vissudha/throat chakra as well as holding space and developing sincere listening skills.
Pricing:
Early Bird: $2,299
(Before January 31st)
Full Tuition: $2,599
Payment plans are available, please inquire.
Payment must be completed by last day of training. Full refunds will be offered until August 1st, after which only 50% of payment will be offered for late cancelation. No refund will be offered after the first day of training.
*Trainees will receive a full Riffs Membership for the duration of this training and special alumni pricing for upon completion of the program*