Sound Bath Program
---
What is a Sound Bath?

In a sound bath we work to bring the body and mind to a state of deep relaxation and rejuvenation. The vibrations of the instruments harmonize with the energetic body and work to release dis-harmony and dis-ease that we hold from traumatic events and high levels of toxicity of the modern lifestyle. Sound bath sessions incorporate intention setting, meditation, and the use of crystal bowls and other vibrational therapy instruments such as tuning forks and gongs to create the perfect environment for you to relax, release, and heal. Attendees will be laying down for the duration of the session, no movement is involved. Expect to leave with a sense of pease and calm. People often relate the experience to "floating on a cloud".

These sessions are held on a wooden deck that is raised off the ground, creating an unique experience where the wood beneath you vibrates along with the instruments so you really feel the vibrations move through the body more then a regular session in a studio with a concrete floor.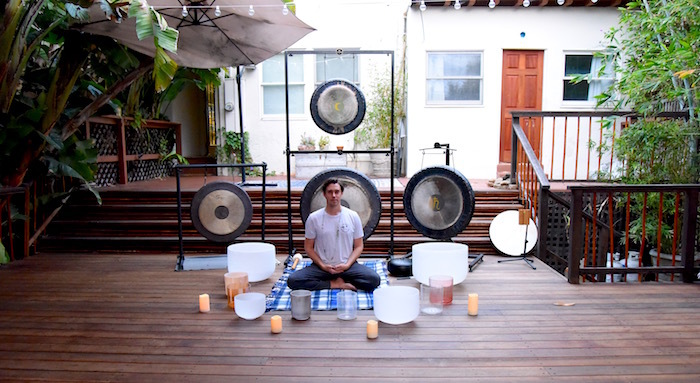 Steve Hart

Steve plays with a unique style blending the soothing powers of the crystal bowls with the power of multiple planetary gongs into an experience that will help you find a place of deep relaxation and clarity. Attendees often speak of receiving messages, answers to their questions, or a release of something they've been holding onto as the healing vibrations move through the body. Steve has a background in music so his playing style mixes his knowledge of music theory and his intuition in reading the energy of the attendees and providing the vibrations they need. Each session is unique and personal to the people who share the space.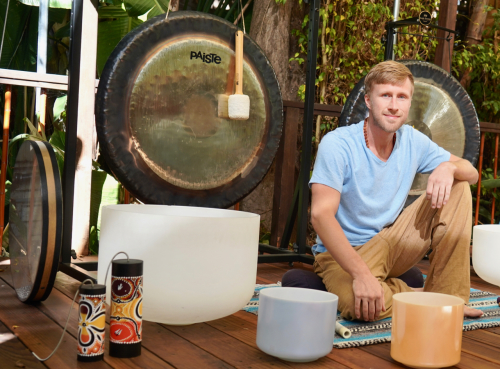 Brent Honnerlaw
As a yoga practitioner, teacher and sound healer, Brent regularly incorporates uplifting vibrations in their various forms so as to enhance the experience of his students and himself. His journey began with a symphonic gong and he has now expanded his repertoire to include singing bowls, various types of drums, chimes and more. With a genuine interest in sound and its healing properties, his love for music continues to grow. Through hands on experience, Brent has felt and seen the transformational power of sound and how conducive it is to deep relaxation, meditation and healing.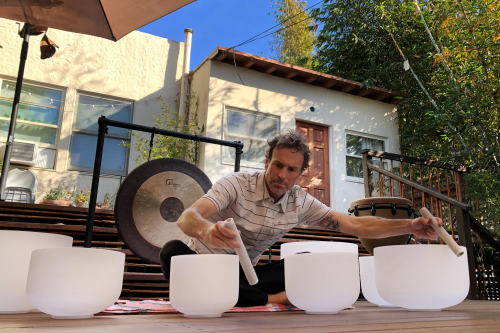 Mark Carter
Mark completed the 200hr YTT program at Riffs Studios. His yogic interests focus on the intersection of meditation, asana and sound exploring the impact and the healing effects of all three on mind, body and spirit. He holds graduate degrees in education and spirituality. His heart is to offer the breadth of his experience and knowledge to help others deepen their practice as they journey toward their True Self.

Private Sound Healing Pricing
Single Session- 60 Minute Session
1-4 people - $100 total, For the 5th+ attendee there will be an additional $25 charge per person.
Purchase
Book Sound Healing Sessions
Soul Sessions-
Our monthly Soul Sessions events are a unique workshop developed by Steve to combine the healing powers of sound healing with gentle yoga, breath work, meditation, and intention setting. Each 90 minute session has a theme with the intention of diving deep into the self to release negative energy and listen to the messages of our intuitive self. Check out our
workshop page
to see when these events occur each month.

Singing Bowl Retail
We are a proud authorized dealer of Crystal Tones and Silver Sky bowls!

The benefits of the sound bath don't have to end at our studio, bring home a bowl yourself and enjoy the healing vibrations every single day! We offer a variety of bowls ranging in size, note, and price, and would love to help you find the bowl that best resonates with you. Contact us for a bowl purchasing and we will sit down with you and help you move through our inventory to find your perfect bowl!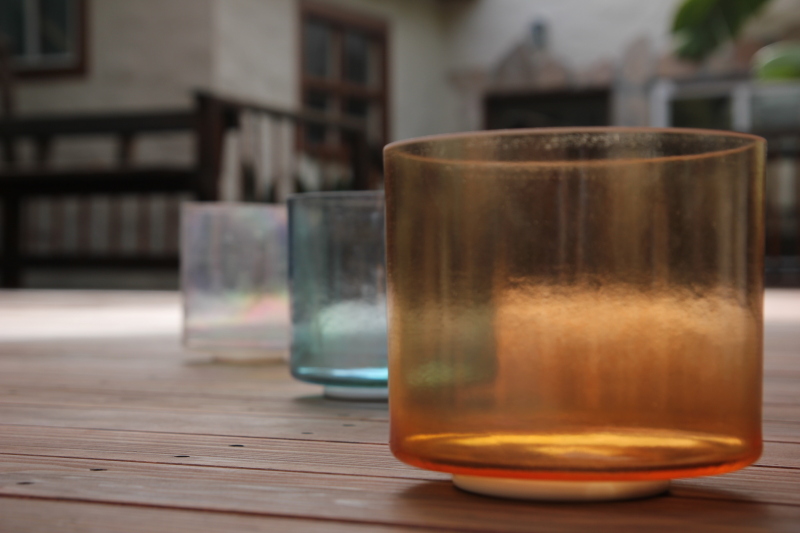 What are crystal bowls?

Our bowls are made from 99.992% pure crushed quartz and heated to about 4000 degrees in a centrifugal mold. Knock-off bowls, as commonly sold for reduced prices are made of less pure materials at much lower heat, drastically reducing the healing properties of the bowls!

They are available in clear or frosted bowls in a variety of sizes, ranging from 6 to 24 inches in diameter. The bowls emit a powerful, pure resonance. The larger bowls are much more resonant, with the tone lingering longer, simply because of the size and amount of crystal. The clear bowls, somewhat more expensive, are more readily available in smaller sizes.

The size of the bowl does not necessarily determine its note, although the larger bowls sound lower octaves and notes. Each bowl is tested with digital technology to identify its sound. One will have a sense of which tone "feels" most congruent with individual needs or desires. The notes, C, D, E, F, G, A, B correspond with one's energy centers or chakras.

Some bowls harmonize with other bowls, and when both are played simultaneously, the effect is exquisite and synergistic. We encourage buying bowls in harmonic sets; ask us to help you find the perfect combination!