Yoga at Riffs Studios in La Jolla, CA
---
Our yoga program is a truly unique experience. We provide live music for several yoga classes every week, creating a unique and profound experience that can't be found anywhere else! We offer a variety of yoga styles including vinyasa, hatha, yin, and restorative yoga while the music is provided by talented local performers hand-picked to match the style of the yoga class they accompany.


Outdoor Studio-

Our yoga studio is outside on a redwood deck surrounded by lush tropical plants, just a block from the ocean. Your yoga practice feels more like a vacation than the 4 walls and mirrors used in most studios. Enjoy the fresh ocean air, listen to the birds chirp and feel the sun gently brighten your day as you practice. Feel the deck vibrate with your body in our unique sound healing sessions and walk away relaxed and refreshed!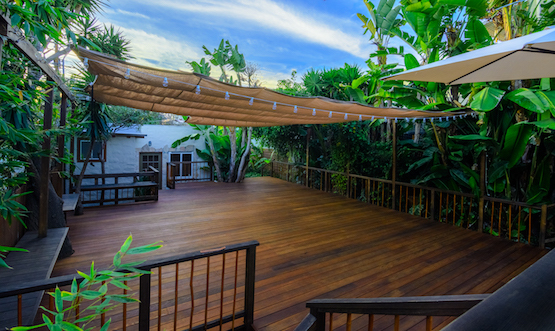 Indoor Studio-

Our cozy indoor studio provides a warm and serene experience when the weather suggests we move inside. The walls provide an added benefit in some classes as we focus on our alignment, practice our inversions, or simply enjoy the pleasures of relaxing with our legs up the wall.

Our studio is also available to rent for your own personal workshop, class, party, or private event. Contact us for a quote on your event!
More Information about all the yoga classes at Riffs Studios