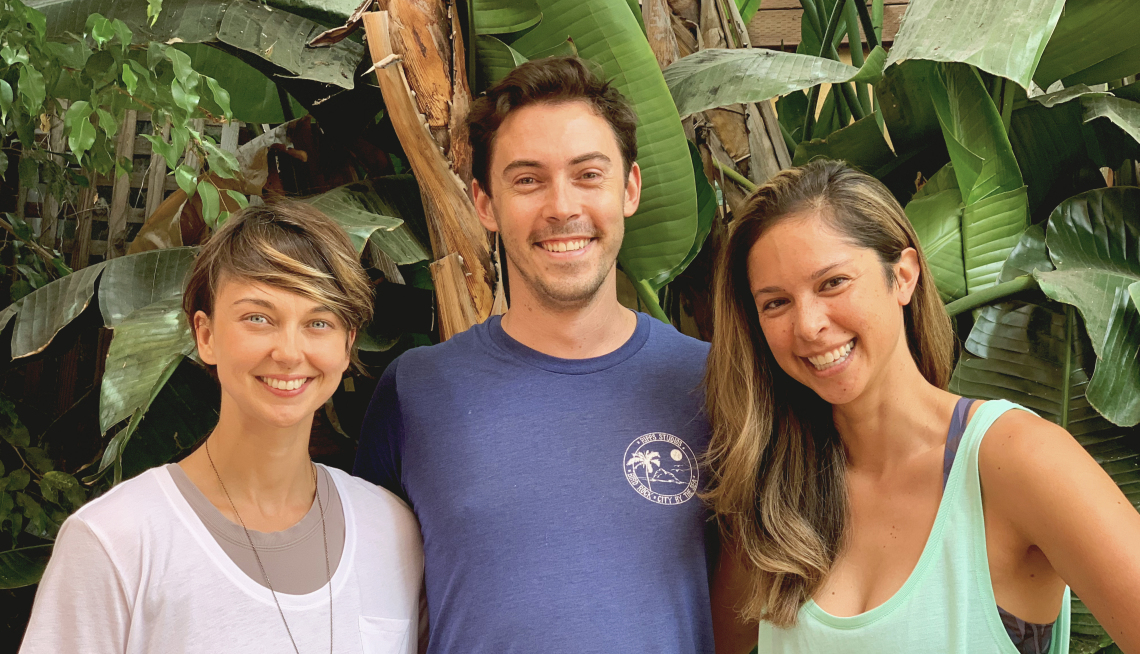 Lead Instructors-
Karina Gerschler, Jenn Richardson, Steve Hart
Karina Gerschler
Karina is a native to San Diego who started her yoga journey in 2003. Through yoga, she ventured down a spiritual path that transformed her from the inside out and so grew the desire to share it with others. She is currently E-RYT 200hr certified and has completed an Ashtanga Yoga Teacher Training with David Swenson and Kelley Washington and is in the final stages of completing a 500hr certification from the renowned Mark Stephens. She teaches a variety of styles such as Ashtanga, Vinyasa, Hatha, Yin and Restorative. In her classes she places emphasis on the breath, energy locks, and focal points while moving through postures. She'll guide you through your class to move deep within and arrive to a meditative space. Karina's intention is to help students help themselves to elevate consciousness, heal, grow, laugh, and love!

Jenn Richardson
Jenn has led or assisted in 21 YTT programs in San Diego over the last decade. She has worked with the student athletes for many seasons at the University of San Diego guiding sport specific yoga, breathing, and meditation. Jenn obtained her 500-hour certification with renowned teacher and author, Rolf Gates and has studied Tui Na body work at the Pacific College of Oriental Medicine. In her classes she guides students to look within, listen deeply, and to be aware of their own unique anatomy. Jenn believes in creating and holding a loving space for each person, speaking words that are high in vibration and facilitating an experience that allows people to feel empowered, inspired, and safe. She has taught in San Diego for over a decade and looks forward to continuing to learn, study and grow within the community that has supported her and hopes that she, through yoga, can be a source of support and empowerment.
Steve Hart
Steve is the owner of Riffs Studios. Yoga and music were two major influences in his life and his mission through Riffs is to share his experience and help the local community through the use of his two most profound passions. Steve started his yoga teaching path with a unique 200hr training in 2014 and has been studying and teaching ever since. He is currently finishing up his 500hr certification under the guidance of the renowned Mark Stephens. Steve brings his passion for the yogic experience through work with the mind, breath, and body, and connecting his practice with his everyday life. He firmly believes in living his yoga and is dedicated to help others find peace through the same process.


---
200 Hour Yoga Teacher Training:
*We keep our groups limited in size to ensure everyone gets ample attention from the teachers. The training is expected to sell out so we recommend signing up early to ensure a place in the training*
Our 200HR training is incredibly unique, dynamic, and powerful. Featuring a well-organized, thematic schedule with senior guest teachers, students will be deeply exposed to the philosophical and physical facets of modern yoga. Students will be encouraged and supported to create their own energetically-intelligent sequences with guidance, discussion and feedback from expert teachers. Heavily steeped in alignment-based theory, students will not only gain understanding of their own anatomy but also learn the art of "reading bodies" in order to lead thoughtful and safe experiences that will have a long lasting impact on their students, friends, and family. Additional areas of focus Sanskrit, asana architecture, organic themes, meditation and chanting, the yoga sutras of Patanjali, history of modern yoga, tantra and concepts around conscious death and dying.

Who is this program for?

This program is for anyone who has stepped onto their yoga mat and felt the call to dive deeper. It's for those looking to uncover their personal philosophy and illuminate their path towards their highest selves. It is for those who are seeking spiritual depth, anatomical knowledge, creative and skillful understanding of asana. It is for those with a calling to share the yoga practice with others, whether as a professional yoga teacher or simply a guide for friends and family. It is for those looking for a community of growth and positivity, to surround themselves with those with desire to walk a higher path, and to gain a new friends that will last a lifetime.

What will you get from this training?

This course will give you the ability to teach yoga and offer the opportunity to step into yoga as a lifestyle. You will gain the experience to teach yoga to others, whether in a classroom setting or to friends and family, as well as develop a personal practice. This training offers expert guidance from highly trained and experienced teachers who have dedicated their lives to sharing the yoga practice. You will become much more familiar with your anatomy as we breakdown different aspects of the body and how they work individually as well as part of the entire system. We will also focus a great deal on how to "read bodies"- looking at modern situations/experiences and how they translate onto the mat. One of the greatest attributes to be gained from this program is public speaking skills and empowerment within vissudha/throat chakra as well as holding space and developing sincere listening skills.

*Trainees will receive a full Riffs Membership for the duration of this training and special alumni pricing for upon completion of the program*
---
Pricing:


Early Bird Rate: $2299
(Before Jan 31st)
Full Tuition: $2,599

Payment plans are available, please inquire.

Payment must be completed by last day of training. Full refunds will be offered until March 1st, after which only 50% of payment will be offered for late cancelation. No refund will be offered after the first day of training.

200hr Dates and Times:


March 11th 2019 - May 19th 2019
Mondays and Wednesdays 7-10pm
Saturday and Sunday 12-5pm
Inquire About the Training
---
100 Hour Yoga Teacher Mentorship Program:
*Minimum of 200hr certification is required to attend this training as well as 1 year of teaching experience. Application and acceptance is required. Any exceptions to this will be reviewed on an individual bases*
Our 100 hour extended mentorship program is designed to provide the next step for yoga teachers who have been teaching for a limited amount of time. This program will give you the tools to hone your craft and lead a focused, inspired and knowledgeable yoga experience for your students.
Each week Karina and Jenn will dive deeper into applied anatomy, sequencing, authenticity work that seamlessly evolves into your intentions and themes for class. This program will deepen your experience and application of the principles learned in the 200 hour program.
This program meets 4 times a week. Mondays and Wednesdays will consist of in-depth asana classes including breath and meditation with time to discuss the shared yoga experience. We will look into the intention behind the intelligence of the sequence, how the breath work felt, and what the meditation revealed. Practicing and sharing creates the space for new teachers to be nourished and gain confidence as well as how to build community.
On Saturdays and Sundays we will workshop more postures and patterns of movement, learn and apply additional modalities to cross pollinate your profession, and work on sequences and discuss yoga philosophy.
In this training you will be required to dive deep into your own practice and experience the next layer of yoga that lives beyond the typical 75 minute asana class. You will learn to provide more in-depth yoga experiences for your students, with intelligent sequencing, advanced poses, and transitions. You will also work on providing safe adjustments and assists, as well as additional modalities that can be applied for private clients or small classes that will make your students fall in love with your classes.
*Trainees will receive a full Riffs Membership for the duration of this training*
Pricing:


Tuition: $1,499

Payment plans are available, please inquire.

Payment must be completed by last day of training. Full refunds will be offered until October 22nd, after which only 50% of payment will be offered for late cancelation. No refund will be offered after the first day of training.

100hr Dates and Times:


Dates TBD
Mondays and Wednesdays 7-10pm
Saturday and Sunday 12-4pm
---
Testimonials
When your mind is blown, how does one put thoughts into words? Here's my best attempt: Jenn and Karina were put on this planet to show by example how to be authentic and present. I'm incredibly fortunate to have had our worlds collide and share light, time and energy. If you love yourself, you will sign up for this.

~Evan G., YTT Grad
I've had a handful of life-changing moments and one of them was deciding to complete my yoga teacher training at Riffs. There is something so very special about this studio, as anyone who steps foot onto the redwood deck can attest to. There's a sort of magic that hangs above the wood planks and drifts in from the trees and lights that surround it, with the ocean just down the road - and the community drawn to the space is equally as magical. Learning from expert teachers like Jenn Richardson, Kellie Livingstone, and Karina Gerschler provided an invaluable experience. They crafted such a unique program, founded in open dialogue, exposure to various lineages and teaching styles, intelligent sequencing, and teaching each student how to find their own individual voices as teachers. Nothing was "run-of-the-mill." Everything challenged me and helped me to ask "why." I grew and continue to grow because of YTT in the most significant of ways.
Over the course of the few months in the program, I deepened my understanding of the philosophy driving the asana practice and learned that the real practice is that which we carry off of the mat and into the world. If you do this training, rest assured you will walk away with the ability to intelligently and creatively sequence your own classes, connect asana with philosophy and its roots, and have an incredibly supportive community and physical space (Riffs) that is unlike any other. I'm eternally grateful that I took the leap and did my training at Riffs. I would absolutely recommend this training to anyone looking to truly deepen their understanding of the practice, regardless of whether they want to go on to teach. It will change your life in the best of ways!
~Marie B., YTT Grad
There are moments in one's life when it seems that the stars align and the Universe places you where you should be. It's often not what you had expected, but is exactly what you need. My YTT at Riffs was precisely that encounter. Having suffered a traumatic loss three-years before, yoga and the exercise of mindfulness was the perfect combination of healing and peace. During my YTT, my knowledge of Hatha Yoga and ability to apply it deepened and expanded as I learned sequence, anatomy, flow, purpose and the spirituality of a holistic yoga practice. My instructors and fellow students became my tribe, my family and I found a new home, a new voice. Now, almost a year out from my YTT graduation, I am teaching and leading others into this similar peace as I partnered with yogis and yoginis to create and develop healing moments for the world around me. Needless to say, I am infinitely grateful that the Universe placed me at Riffs.
~Mark C., YTT Grad
I have a firm belief that All is within us. Though, had I not found Jenn, Karina, and Kellie at Riffs and listened to the voice that told e to take their 200 hour training, I don't know if I would have ever accessed that belief. Over a few months the teachings offered to us set in motion wheels that had been begging to turn, thoughts that were begging to be had, and the ability to continue walking down the path I didn't know I was already exploring. The process of waking up became a nearly tangible experience, and altered every fiber of my being. If you have any desire to learn about the teachings of yoga, and more succinctly, the teachings of the Self, Riffs Studios is the place to do it!
~Kristi M., YTT Grad
Signing up for the 200 hour training at Riffs was one of the best decisions. Not only did I deepen my knowledge of yoga asana and philosophy, I also learned what it truly means to hold space for my students and how to foster meaningful connections with those around me. I have made some very close friends (and even a roommate!) from the training. I am now teaching twice a week at Riffs and the community here has become a second home to me. I am incredibly grateful for the experience.
~Jamison M, YTT Grad
Riffs Teacher Training is like….savasana. Ethereal trainings in yogic philosophy and meditation are grounded right down into the earth of anatomy and alignment. I couldn't have imagined a more holistic training, and judging from friends who have also gone through YTT, nor could anyone else. Karina and Jenn have a knowledge of yoga that is wide, deep, and connective--like fascia. Their training exposes students to several different styles of yoga and provides the tools to help them explore those concepts more deeply if they so choose. Plus, the outdoor deck is beautiful and the space is a truly special place to practice. Ten out of ten would YTT here again!
~Kelly D, YTT Grad